Ida, The Tallest Shipping Container Building in North America
Ida on McKinley is a multi-use development made from shipping containers on 3rd Street and McKinley Street in Phoenix, AZ. The architect is Local Studio, the structural engineer of record is Schneider Structural Engineers. Runkle Consulting, Inc worked under Schneider to design the shipping container part of the structure. The building is 7 stories high, and is as of this writing the tallest shipping container building in North America.
Trivia Fact: Ida Saxton was President McKinley's wife.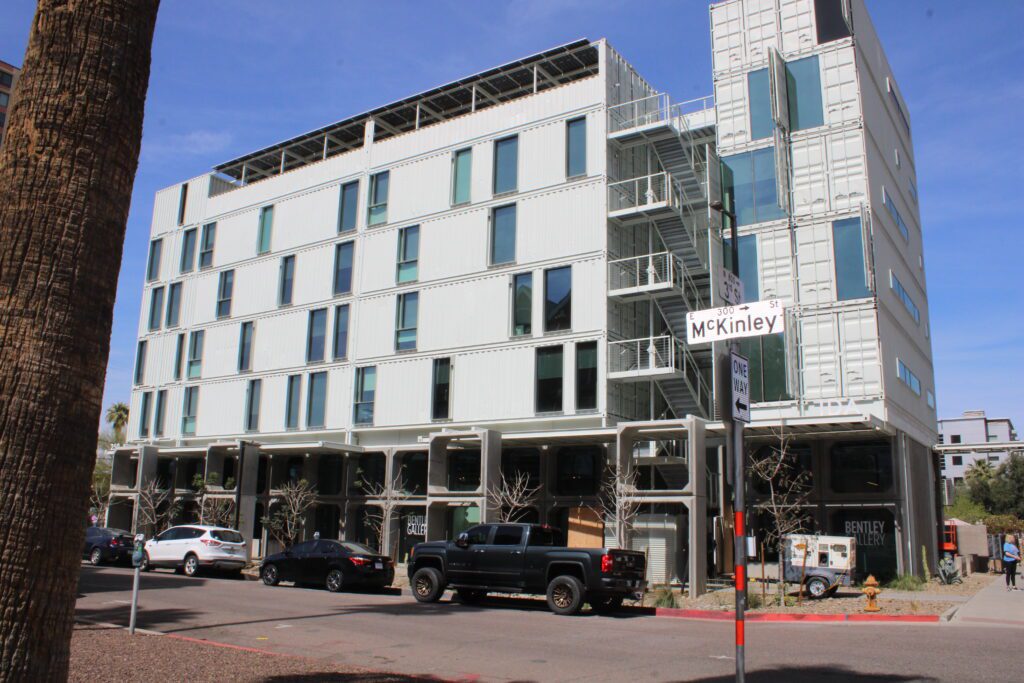 The Design
To develop the design, we modeled the shipping container structure in 3 dimensions using Bentley RAM Elements software. We modeled the container part of the building as two separate buildings to make a more conservative design and because of the computation power needed to run the models. Because the model is so big, takes about an hour and a half to run the calculations for the building. When we created the design, it was done in 3 dimensions using Autodesk Revit.
The design required quite a bit of coordination between us and the structural engineer of record (Schneider). So, they coordinated our design into their's, which were the first two floors and the foundation. So, we gave them the building loads from the container structure and they designed their structure to carry it down to the foundation. For me, the hardest part of the design was the rooftop patio and deck.
In hindsight, it would have been easier to design if we had the Revit model in the cloud as we've worked on in later projects. Because it allows multiple consultants to work on one building model, and prevents conflicts. On a later project, we used this system, and we could see changes the architect made in real time, as well as the architect seeing our changes. Also, there was less redrawing of items in different copies of a model.